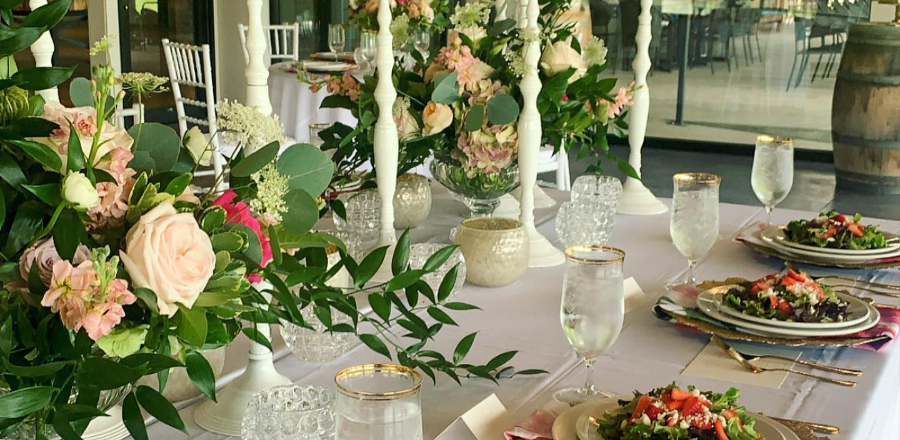 Welcome to Gina's Catering
Gina's Catering offers a variety of catering needs, from office luncheons to full-service events and weddings; while our "Grab & Go" has oven-ready meals for takeout, and "Balanced Bites" offers weekly meal prep pickup. Explore our menus or contact our team for more information!
Get Catering Now!
About Gina Simpson, Owner
A passion for food and serving others is what makes up the DNA of Gina Simpson, the namesake behind Gina's Catering, a staple of the Central Arkansas food and event scene. In fact, the entrepreneurial endeavor was the cherry on top of her life that epitomizes the American dream.
Gina grew up in Clarendon, AR where she would meet and then marry her high school sweetheart, Alan. The two have been married for years, a partnership that has blessed them with two daughters, Sydney and Anna, a son-in-law, Justin and two precious granddaughters, Lyla, and London, .
Gina took a leap of faith with Gina's Catering, but combining her two loves - people and food - was a natural path for her to walk, especially after first getting the itch for the industry while helping plan her daughter's wedding in 2011.
Thanks to valued customers, in less than a decade, Gina's Catering is thriving in the event scene, has a storefront with Grab and Go meals, launched Balanced Bites meal prep service, and provides employment for nearly 50 people.
Gina's Catering knows that planning a private party or corporate affair, small or large, can be stressful and even intimidating. Gina's Catering can help so that you can relax and feel like a guest at your own event.